The Buddy Programme
The Buddy Programme is based on the philosophy outlined in Presentation College Currylea Vision Statement.
"…to create a stable environment which will allow students to develop morally, emotionally, intellectually, physically and spiritually, giving them a love of learning, developing self-esteem and confidence and preparing them for life"
Aims
The overall aim of the Buddy Programme is to build a collaborative and caring school community, promoting social and support networks, where each student feels a sense of belonging to Presentation College Currylea.
The Buddy System has a twofold role:
Easing the transition from Primary School to Secondary School by providing a link between First Years and Senior Students, thus supporting the First Years as they establish familiarity with the new school environment.
Recognising the importance of peer support is at the heart of Buddy Programme.
Objectives
It is expected that:
Our First Years will benefit from having a support network and will feel a sense of belonging in Presentation College Currylea.
It will enable First Years to network with their fellow classmates in the hope of making new friends.
Outline of the programme
Each First Year student is paired with a Transition Year mentor who will be a friendly face to the student throughout the year.
The Buddies will touch base regularly with their mentees. They will also arrange events throughout the year to facilitate bonding.
Teachers: Ms. Payne
Student Rep: Transition Year students
Games Club
The Games Club was established to help our First Year students settle into the school community at Presentation College Currylea. Every Monday, the students have the opportunity to meet and play a variety of board games. They mingle with their peers, as well as interact with their prefects. It gives the students an opportunity to converse and enjoy their lunches all while playing games. Most importantly, this is done in a safe, supportive and fun environment. It reflects the school's goal to appeal to all types of students with a variety of interests.
Teacher: Ms.McHugh
Student Rep: TYS
Book Club
A Book Club for Junior and Senior students has been established in our school to provide an enjoyable space for students to discuss their latest reads with their fellow peers. It also fosters a love of literature. Junior and Senior Book Clubs meet monthly over cakes and tea to discuss their latest book choice.
Most importantly, the students vote on their choice of books, giving them autonomy over the club. It is part of our overall literacy improvement plan. We aim to encourage students to read from a variety of genres. The club not only provides students with a social outlet but improves their overall proficiency in reading and writing across all school subjects.
Teachers: Ms. Fox, Ms. Payne & Ms. O'Donovan
School Magazine: The Quill
Students in 5th year voluntarily give up their time and talents to create our annual school magazine.
Students are involved in the entire process of compiling the magazine, from writing and editing articles to fundraising, advertising and distribution.
Our talented students are always on hand to produce interesting articles together with elaborate front covers and artwork throughout the magazine.
Teachers: Ms. Payne, Ms. Heaton & Ms. Casey
Student Editors: Machaela Donnellan & Eliza Powell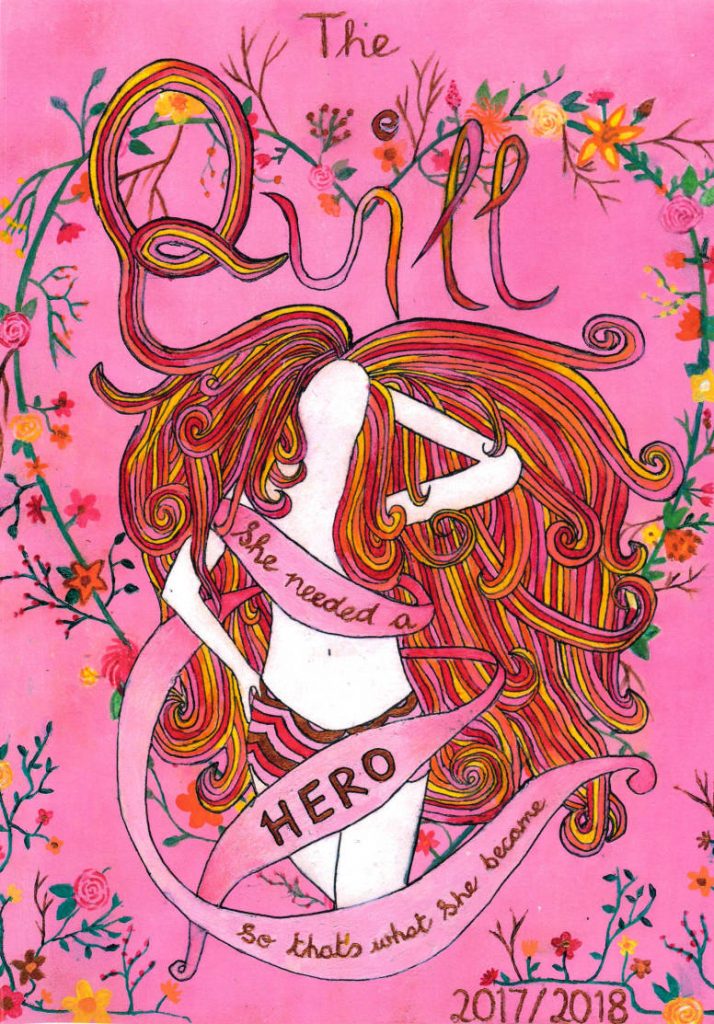 Table Tennis
Table tennis tournaments are held every Friday for first year students in Room 1. This is a great opportunity for first years to have a bit of fun and competition with each other. The tournaments are organised by senior prefects.
Prefects: Katie Creaven and Keelyn Mangan
Legion of Mary
Legion of Mary has been active in the Presentation College Currylea, since 1950. The Legion holds a weekly meeting at which volunteers meet with the students where prayer is intermingled with reports and discussions.
The Legion sees, as its priority, the spiritual and social welfare of each individual. The members participate in the life of the parish and through collaboration in every apostolic and missionary undertaking sponsored by the parish.
Involvement the in the Legion can be used as gain credits for the Pope John Paul Awards and for the Gaisce Awards.
Teachers: Ms. Quirke & Sr. Dorothy Somers