All students take part in a very intensive Physical Education programme which includes Gymnastics, Dance, Swimming, Athletics, Orienteering, Aerobics and Circuit Training. A variety of games are offered, e.g., Basketball, Gaelic Football, Volleyball, Hockey, Soccer, Unihoc, Tennis, Badminton, Rounders, Tag Rugby, etc. Students participate in these activities regularly at many levels. Senior students have the opportunity to take part in alternative classes such as Yoga and Pilates. They also attend classes, such as Swimming, Aqua Aerobics, Aerobics, Step and Rebounding in Coral Leisure Centre.
Extracurricular Sporting Activities include:
Football
Basketball
Athletics
Soccer
Badminton
Gymnastics
Equestrian
Camogie
Swimming
Football
Presentation College Currylea has built a considerable reputation in both Connacht and Ireland for our prowess in Ladies Football. We first fielded a team in 1999 and since then have gone on to contest up to 20 finals at County, Connacht and All-Ireland levels, in grades ranging from u14, Junior (u16) and Senior (u19). The pinnacle of the school's achievements came in 2003 when we won the Senior A All-Ireland title.
In more recent years, our Senior A team has won three successive Connacht A Titles (2016, 2017 & 2018). Our Junior team has also been extremely successful. In 2015, we were All-Ireland finalists. Since then, we have secured two successive Connacht A titles (2016 & 2017) and represented Connacht and Galway in the All-Ireland series. Our u14 team has many successes. In 2016, we also won the Connacht A title. We are proudly the first school to achieve 3 Connacht A titles in the one year. Many of our students now form the backbone of Galway teams from underage to senior levels. We have had All-Ireland winning captains and one-third of the All-Ireland winning senior Galway panel are past-pupils of the school. All of this success has been achieved as a result of dedicated students and willing teachers. Training takes place after school and at lunch-times. Everyone is always welcome.
Football offers a wonderful chance to make new friends and get involved. In fact, in more recent years, we have developed an international dimension with students from all over the world joining our panels.
Coaches: Ms. O'Connor, Ms. Devlin, Mr. Moran, Ms. Morris, Mr.Hamilton, Ms.Corcoran, Ms.Molloy & Ms.Heverin
Student Council Rep: Isabelle Redington, Emma Quigley & Kayla Gilmore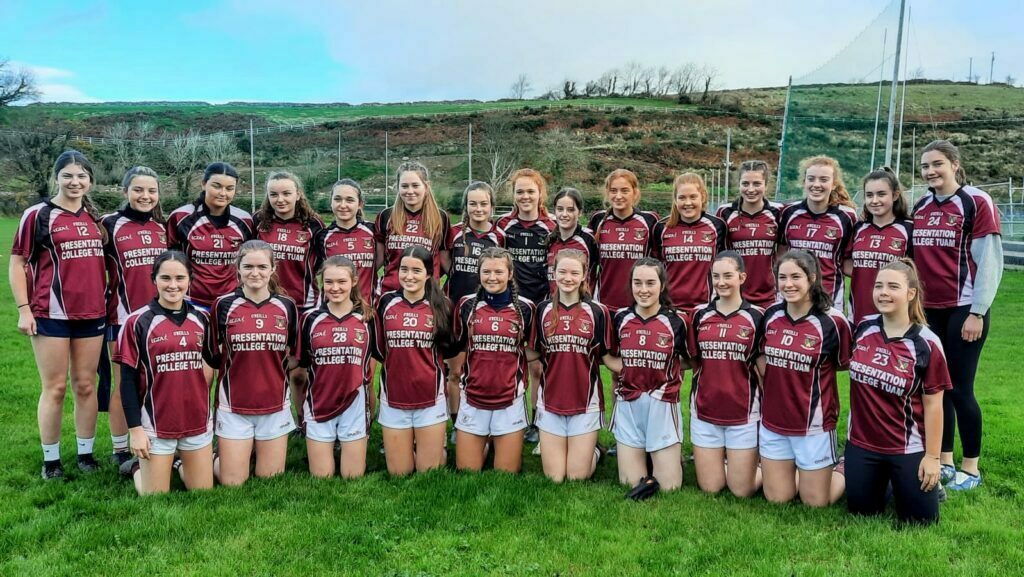 Basketball
Basketball is a very popular team sport in Presentation College Currylea and student interest is growing each year. The school offers all students the chance to join the basketball team and compete in competitions from the age groups of 1st year, 2nd year, Cadette and Senior.
Training is held once a week. Senior and Cadette training begins immediately in September with competitions starting in October. First year and 2nd year teams train later in the year with competitions starting in January. The school has one indoor and three outdoor courts and these ensure maximum participation by students wishing to play the game.
Basketball is an excellent way to keep fit and healthy, can strengthen bonds with other teammates and develop life-long friendships.
Coaches: Ms.Kelly, Ms.Connaughton & Ms.Egan
Student Council Rep: Amy Conneely & Ailbhe Killilea 
Athletics
The Athletics Club trains once a week. We are very fortunate to have the Palace grounds right beside us and we use this track for training. The two main school events are:
Cross-country competition is usually held in Bushfield, Loughrea.
The track-and-field competition is usually held in Dangan, Galway.
Both competitions progress to All-Ireland levels after qualifying in South Galway and then Connacht. While we only train for running events at school, we invite students to compete in all events. We also have our annual school 5k run and are very grateful to Tuam AC who always help us out on the day.
Coach: Ms. Cosgrove
Student Council Rep: Jenni Reidy
Badminton
The badminton team consists of 2nd and 3rd years. We train weekly at lunch time. New students are welcome! We develop our skills and aim to improve with every training while having fun at the same time!
Challenge matches are arranged ahead of the 'Connacht Schools Competition' in the new year.
Coach: Ms. Fox  
Camogie
Camogie has flourished in the Pres this year. While Camogie is a relatively new sport to the school we now have 3 teams in competition. Our Senior and Junior teams compete in the Connaught league and our first-year team compete in the Galway schools blitz. Training takes place weekly.
Coaches: Ms.Kelly and Ms.Kelly
Student Council Rep: Aoife O'Malley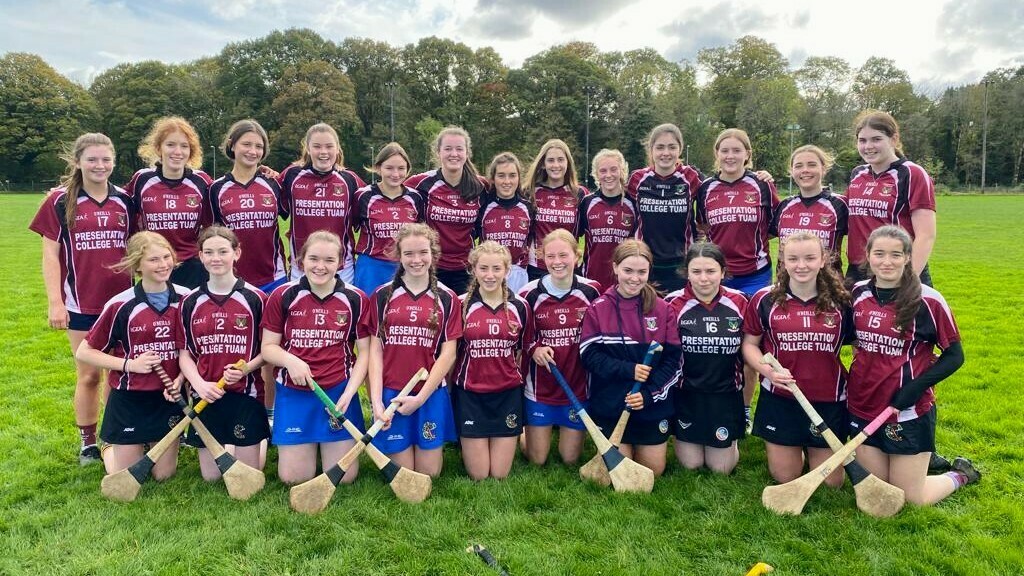 Soccer
There are two soccer teams – 1st Year and u15. While it is a relatively new sport to the school our u15 team achieved success reaching the Connacht Quarter-final in 2018. We train weekly after school.
Coaches: Ms.Morris & Mr.Moran
Student Council Rep: Ciara Coen & Lisa Coen
Gymnastics
The gymnastics club trains weekly in the school gym. Our aim is to improve fitness and gymnastic skills while also providing an opportunity to make new friends.
Coach: Eiméar Geraghty
Equestrian
Students who own their own pony or horse represent the school in inter-schools show-jumping competitions at weekends. This gives students the opportunity to represent the school in showjumping locally and nationally.
Student Council Rep: Eva Moran
Swimming
The swimming team consists of members of the Tuam Swimming Club which trains regularly in Coral Leisure Centre. The swimming team partake in the annual Connacht Senior Schools competitions.
Student Council Rep: Saoirse Burke